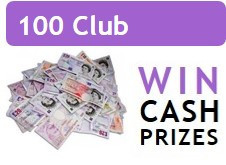 How it works

Up to 100 parents buy one or more "shares" per year. Prizes are given on a monthly basis to winning "shareholders" whose share numbers have been drawn.
Cash prize of £25 awarded monthly
Christmas bonus prize of £50 awarded in December
plus an end of school year £50 bonus prize
How much it costs
As we're part way through the year, new subscribers can join at any time but must sign up until the end of the school year (last draw in August 2015). The cost will be £1 per month per share, payable in advance by cash or cheque. (Cheques made payable to Park Hill PA.)
How to Join
Fill in the attached form to apply for your number(s) and forward to:-
Ruth Townsend or Lucy Harding, PA 100 Club Secretaries, c/o park Hill Junior School, Parkfield Drive, Kenilworth, CV8 2JJ
Remember - you've got to be in it to win it!
Winners are drawn at the monthly PA meetings and will be announced in the school newsletter and on the website.